Look for a long term partner in a translation agency.
The need for translation and subtitling services is rapidly increasing regardless of the industry. It is extremely vital for any organization to understand the importance and value of translation and subtitling in the growth of their business in today's time.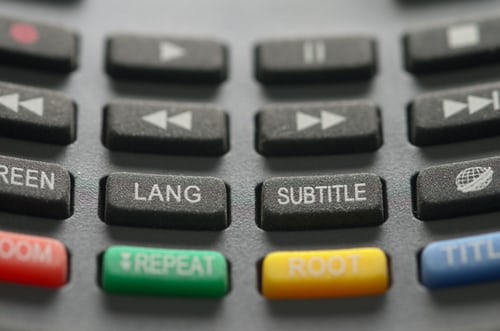 There is a lot that you can look for in a vendor, but the very first thing that you need to understand is that not all vendors are equal. All of them are not going to deliver the same output at the same rate with the same quality. You have to learn to differentiate between different vendors based on multiple factors like services required, accuracy, cost-effectiveness, and many more.
Any video content with subtitles or the translated videos has the potential to reach an international audience and thus increases the visibility of your brand as well. But, only the right translation and subtitling service can help you reach there and make this happen.
Let's find the answers by digging deep down and learning what a business should look for before hiring translations and subtitles service provider.
1. Quality
The very first and the most important factor while choosing a translation and subtitling service is the quality. Good quality subtitles and translation can increase your brand value among audiences.
Quality comes with accuracy. If a service provider is offering you high-quality outputs maintaining a minimum of 99% accuracy, it can be considered as an option for selection. The quality should be up to the standards of the company and industry.
The vendor should be able to create a great viewing experience for the end-users. Few pointers that high quality translated subtitles should have are:
Not too long sentences
Not covering a lot of space on the screen
Should have natural breakage of lines
Allow the viewer to read the entire subtitle before the next appears
word-to-word translation doesn't work for video subtitling. The sentence should maintain the correct and proper context flow to make the audience understand everything reading subtitles alone.
High quality of translated outputs is only possible because of professional linguists. No translation machine is able to translate content with such accuracy. Professionals also include the cultural nuances of the video content perfectly while translating.
2. Scalability
Scalability is the next important thing to look for in selecting your translation and subtitling partner. Any business needs a constant supply of high-quality subtitles and translations. The service provider should be chosen keeping consistency in mind.
A translation and subtitling service that can maintain the same top-class quality regardless of other factors will be your ideal match. There are subtitle companies that offer quick turnaround times but also put limitations on file sizes. This means that the quality is altered by quantity.
Such services might not provide the desired results for your video transcripts or subtitles and thus will not be as accurate as expected. The scalability of the service provider can be measured on the following factors:
Consistency in quality
Customer-centric solutions
A trusted partner
Efficiency
3. Flexibility
The capability of a vendor to quickly and calmly adjust to the short-term changes needed by a client is called 'being flexible'. It is a super important factor to consider as everyone's subtitling and translation needs vary.
While searching for subtitling and translation services, go with the one that allows their users to make selections as per their needs and offers customized solutions. It is highly recommended to go with a vendor that provides you with the ultimate user experience by making the entire process seamless.
Customization should be checked on the following:
Varying turnaround times
Input & output file options
Different sized project requirements
Who would be the best vendor for you?
One brand that you can easily trust  for your business's translation and subtitling needs is Vanan Captioning. We have been delivering the best quality translation results for years maintaining scalability along with flexible solutions.
Our translation and subtitling service come at super affordable rates and 24*7 customer support.